Posted:
May 23rd, 2010 |
Author:
Pete
|
Tags:
Housesitting Chronicles
|
3 Comments »
---

Came to the house straight from work for my first hours of duty:
The animals look suspicious. They keep staring at me as I wander around the house, exploring my new living situation for the next 6 days. They think I'm a dope.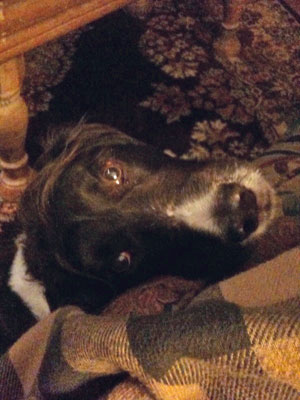 15 minutes later
The dog seems to like me. Perhaps he, unlike the cats, understands that I'm the reason he's going to eat this week. Lying on the floor by my feet right now. The cats are watching him. Their eyes are calling him a traitor.
Left to go back to the apartment to pack some clothes for the next few days
Came back two hours later and they're all in the same spot. I think they're up to something.
10 minutes later
I think the dog just farted.
Dog's still lying next to me on the floor by the couch
I'm going to get Teddy (dog) to respond to "Tedster" by the end of the week.
Nearing bedtime
Cat just tried to get into a package of Oreos. Nuh uh.
Bedtime
The Tedster normally sleeps in the master bedroom, but w nobody occupying it, we moved one of his beds (right, dude's got muliltiple beds throughout the house!) to the basement in case his sleeping preference was dictated not by room choice but by proximity to human beings. So he comes lumbering downstairs, sniffs something and catches the trail like the best of crime-fighting dogs, chases the trail around the basement, and winds up on his mat. He spins around, sniffing and getting to know the mat, as if to say "how did this get here?! I have the same one up stairs? Where did this come from?!" before plopping down and falling asleep.
---